Quench Cleanse
Aloe & Sunflower
For Normal to Dry or Mature Skin Types
PRODUCT #LLSCQC
4 OZ.
This mild yet incredibly effective cleanser focuses on hydrating and balancing, as well as calming common issues that arise with aging, sun damage, and troubled skin. The Aloe Vera in this cleanser creates a shield that keeps moisture in and pollutants out, while Rose Flower Water from Bulgaria hydrates and soothes. Nutrient-rich Wheat Germ Oil and Foraha Fruit Seed Oil help revitalize skin and reverse the effects of aging.
"So my friend asked if anyone wanted some skin wash, mask, moisturizer. I love free samples so I was the first one to comment. When I received my samples I immediately ran to the bathroom to try them. First I tried Quench cleanse and I was thinking this stuff isn't going to work, it isn't foaming or anything like I'm used to. As soon as I rinsed off my face I was sold! My skin has never felt cleaner! I used the products for a year before becoming a beauty guide! Best decision I have ever made!"
Carol H.
Bullard, TX, U.S.A
"Postpartum anxiety is a very scary reality that many women are unaware of. It's a debilitating state in which everyday tasks such as leaving the house and socializing can become unfathomable. A once extremely confident and outgoing socialite, postpartum anxiety crept in after the birth of my son and made the thought alone of reaching out to others overwhelming. After going out on a very uncomfortable limb and joining LimeLife by Alcone, the practice of putting myself out there and getting back in touch with others has already begun to cast Postpartum anxiety into the shadows. Waking up and taking the time to invest in myself has given me the confidence boost to regain control of my life and my future. I refuse to let anxiety define me and I've utilized both using and selling LimeLife by Alcone products to be a catalyst for a life brighter and more glistening than Liquid Sunshine. With skin this good (thanks to a year of quench cleanse, sotoks and skin therapist) it'd be a shame to not shine my light on others."
Jocelyn A.
Huntsville ,AL, U.S.A
"Limelife gave me back my self-convidence, self- esteem, and an opportunity to be a part of a second family. We want to get this into every girl and guys hands so they can experience true luxury. The skincare, especially Quench Cleanse, Skin Therapy, Skin Polish and, Masque Of Zen has made such an improvement I am in awe of their greatness. I did not know the importance of taking care of your skin was, it's absolutely necessary. The fact I did not have a makeup line after using the foundation, was my ah- ha moment and got me to say this is something I can be proud of. Limelife gives me a platform to help others feel beautiful and confident. Saying YES was one of the most life-altering decisions I made and am proud to say "Living the Limelife"."
Terri L.
Bryant, AR, U.S.A
"My face was a dry horror story before LimeLife. The skin around my nose was completely dry to the point of would bleed. I have allergies so blowing my nose so much makes it chapped and dry under my nostrils. I no longer have to deal with that since using Quench Cleanse, Skin Therapy and Skin Polish. All those together really fought all that dryness so I never ever have to worry about it anymore. My nose is softer then it's ever been. (I actually just had my boyfriend feel it the other day because I couldn't believe it) I now have no idea what I is do without it. It seems like a mild soap but it is tough on dry skin! Love it!"
Lauren S.
Springfield, MO, U.S.A
STARS OF THE SHOW
Aloe Vera - helps heal the skin, creates a "shield" to keep pollutants out and moisture in, and promotes redevelopment of new, healthy skin cells.
Rose Flower Water - our rose water comes from roses harvested in Bulgaria's famous Valley of Roses and helps in soothing and hydrating the skin.
Foraha Fruit Seed Oil - this vegetable oil from Madagascar is proven to aid in the elimination of waste material and toxins from capillaries, helping support cell immunity and strengthen skin cell tissue.
Aloe barbadensis (aloe vera) leaf juice, Helianthus annuus (sunflower) seed oil, Rosa damascena (rose) flower water, leuconostoc/Radish root ferment filtrate, glycerin, coco glucoside, coconut alcohol, lauryl glucoside, sucrose cocoate, sodium lauroyl lactylate, Calophyllum inophyllum (foraha) fruit/seed oil, sclerotium gum, Panax ginseng (ginseng) root extract, Rosmarinus officinalis (rosemary) leaf extract, hydrogenated lecithin, glyceryl caprylate, sodium anisate, xanthan gum, citric acid.
Ingredients in bold are Certified Organic
89.15% of the total ingredients are from Organic Farming
pH = 4.8-5.5
Those with dry skin should use Quench Cleanse in the morning and again in the evening. For combination or sun-damaged skin, use Quench Cleanse in the morning and Dream Clean in the evening. It can also be recommended for temporary use for those with oily skin who may be experiencing an increase in oil production due to a previously used, over-stripping cleansing routine or acne treatment. Once skin is rebalanced, Dream Clean can replace the PM use of Quench Cleanse, if needed.
Massage into the skin using circular, upward strokes. Remove with several splashes of warm water followed by a cool water splash.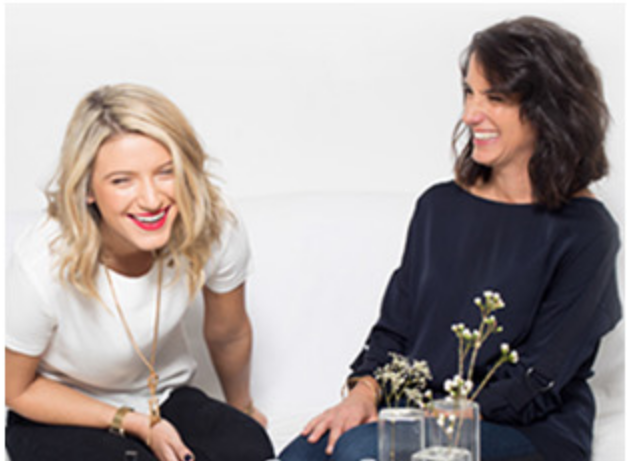 Incredible makeup and skin care for everyone…
At LimeLife, we empower people to achieve their goals and dreams and to inspire others to do the same. Our family-owned company was founded in 1952 to provide professional makeup to the stage and film industry. Now we are expanding our reach to help women and men everywhere look their best every day with our all natural skincare line and personalized makeup palettes.
Be Amazing Every Day with LimeLife! Michele Gay & Madison Mallardi
Co-Founders | Aunt & Niece