Eye Arise
Aspen Bark & Carob
Eye Serum
PRODUCT #LLSCEA
0.5 OZ./15 mL
Eye Arise Eye Serum uses naturally derived, yet highly effective ingredients to help fight the signs of aging around the eye area. Aspen Bark gently exfoliates dead skin cells while naturally occurring Hexapeptide-11 and Carob Gum reduce fine lines, age spots, and the appearance of dark under-eye circles. The cooling ceramic-tip applicator instantly reduces puffiness and refreshes the skin.
"This is the story of my mom. She was considering bilateral blepharoplasty (eyelid surgery) for the upper eye lids that had atrophied, due to age. When I became a beauty guide, her and I talked about the eye aspire, and she decided to give it a try. Within 1 week, her eyelids were out of her way, so much that she could see the bottom portion of her upper lid again! This product literally saved her from a painful surgery and saved her thousands of dollars! Thank you LimeLife!"
Aschlee M
Frankfort, NY, U.S.A
"I was so excited to hear about this eye arise formula. I just couldn't wait to buy and receive and try it. I have struggled with very dark circles and bags for several yrs now, and I have tried a bunch of stuff to help minimize this and nothing helped. Then I finally got the eye arise, and started using it immediately, everyday, and boy was I shocked when only 4 days later people I least expected to notice- started asking me what was I doing because my eyes are looking so beautiful and young! I was so happy to have finally found the right product for me and I couldn't be happier! Thank you so much LimeLife by Alcone for changing my life in so many ways!"
Britanni R.
Dunlap, TN, U.S.A
"I became a BG late 03/18. I have been using Eye Arise faithfully for 9+ weeks twice a day. The other day someone asked me if I had any "work" done!!!! Are you kidding me...all LimeLife by Alcone baby!!!! FYI ... I am 59 yrs old!"
Libby P.
Murfreesboro, TN, U.S.A
"My favorite product is Eye Arise. I have tried many products to help with my horrible puffy eyes and nothing has come close to giving me the results I see from Eye Arise!! I am thankful that LimeLife launched this product"
Lisa B.
Ehrhardt, SC, U.S.A
"When I first became a Beauty Guide with LimeLife by Alcone, I was beyond excited with how well my skin looked from using our skin care! As I get older, my under eye puffiness and dark circles become more and more defined. I have always been very insecure about them and I feel like that's all you can see when anyone looks at my face! A couple of weeks back, Limelife had a skincare sale! I just HAD to try Eye Arise! In just 3 days, I could see a difference! And the results after 1 week were UNBELIEVABLE! Now that I have been using Eye Arise twice a day for a month, my undereye puffiness is nearly gone and the darkness is significantly lighter! I am and forever will be thankful to have come across such an amazing product!"
Carissa P.
Port Richey, FL, U.S.A
"I have a lot of swelling under my eyes when I apply the Eye Arise it totally eliminates my swelling and fine lines."
Sherry C.
Blossom, TX, U.S.A
STARS OF THE SHOW
Aspen Bark - Gently exfoliates the skin around the eye area while soothing and smoothing the skin.
Carob Gum - Provides a soothing, cooling, and firming sensation while promoting moisture retention and protection of the delicate eye area.
Hexapeptide-11 - Improves skin firmness, reduces the appearance of fine lines, and promotes maintenance of the skin's lipid layer.
Aloe barbadensis (aloe vera) leaf juice, Rosa damascena (rose) flower water, sodium hyaluronate, glycerin, yeast extract, xylitylglucoside, anhydroxylitol, xylitol, hydrolyzed rice protein, hydrolyzed pea protein, glycine, proline, hydrolyzed sodium hyaluronate, Populus tremuloides (aspen) bark extract, cellulose gum, Chondrus crispus (carrageenan) extract, Ceratonia siliqua gum, sucrose, hexapeptide-11, sorbitol, Ascophyllum nodosum extract, Asparagopsis armata extract, Hibiscus sabdariffa flower extract, xanthan gum, sodium levulinate, sodium anisate.
Ingredients in bold are Certified Organic
85% of the total ingredients are from Organic Farming
pH = 4.8-5.5
Gently squeeze the serum from the tube onto the cooling ceramic applicator. Massage around and under the eye area after cleansing and before moisturizing.
Use this product consistently and the effects will be visibly dramatic.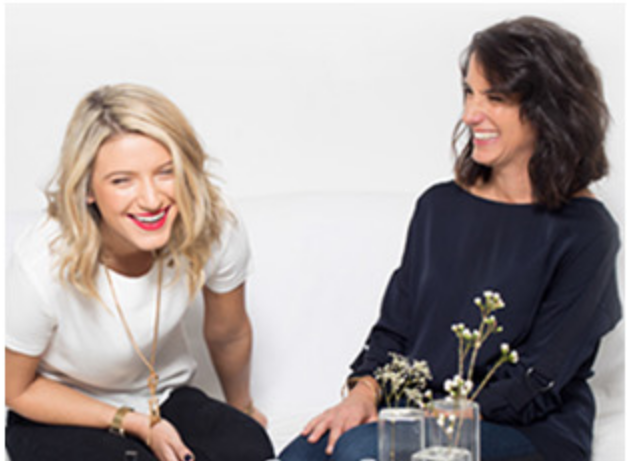 Incredible makeup and skin care for everyone…
At LimeLife, we empower people to achieve their goals and dreams and to inspire others to do the same. Our family-owned company was founded in 1952 to provide professional makeup to the stage and film industry. Now we are expanding our reach to help women and men everywhere look their best every day with our all natural skincare line and personalized makeup palettes.
Be Amazing Every Day with LimeLife! Michele Gay & Madison Mallardi
Co-Founders | Aunt & Niece