Sotoks
Songyi Mushroom
Brightening Serum for All Skin Types
PRODUCT #LLSCSX
1.7 FL. OZ./54 mL
This ultra-effective serum uses natural ingredients to reduce dark spots, lift sagging skin, and smooth fine lines and wrinkles. The moisturizing base also works to hydrate and rebalance your dry skin. Use alone or in combination with our moisturizers and facial oils as part of your daily routine.
"I used to buy new products every year, hoping I would find my perfect skincare routine. After using so many products, they would become ineffective after a few months. Once I started using Dream Clean, Sotoks, Skin Polish and Calm Balm, I noticed an immediate difference. My skin became smoother, softer, pores looked smaller and I had a glow. I have not needed to change my skincare products in 2 years!"
Kierra J.
Waldorf,MD, U.S.A
"Postpartum anxiety is a very scary reality that many women are unaware of. It's a debilitating state in which everyday tasks such as leaving the house and socializing can become unfathomable. A once extremely confident and outgoing socialite, postpartum anxiety crept in after the birth of my son and made the thought alone of reaching out to others overwhelming. After going out on a very uncomfortable limb and joining LimeLife by Alcone, the practice of putting myself out there and getting back in touch with others has already begun to cast Postpartum anxiety into the shadows. Waking up and taking the time to invest in myself has given me the confidence boost to regain control of my life and my future. I refuse to let anxiety define me and I've utilized both using and selling LimeLife by Alcone products to be a catalyst for a life brighter and more glistening than Liquid Sunshine. With skin this good (thanks to a year of quench cleanse, sotoks and skin therapist) it'd be a shame to not shine my light on others."
Jocelyn A.
Huntsville, AL, U.S.A
"After not taking better care of my skin in the sun, I developed sun spots on my forehead and above my upper lip, which resembled a mustache! I was so embarrassed to go out without something covering my "mustache looking sunspots". I tried everything from prescription face creams to drug store brands. Nothing got rid of it until I found sotoks and one drop wonder! Though they are not fully gone, they have lightened so much I am not embarrassed to go out bare faced anymore. These two products are a must have in my skin regimen. Thank you Michele and Madison for getting me all natural chemical free products that actually work and don't cost an arm and a leg!"
Lindsey S.
Wenona, IL, U.S.A
"I suffered from scars due to a skin disease called "scabies" that I became somewhat use to. To my surprise after starting the Sotoks and One drop wonder duo I noticed my scars started fading. They are now completely GONE! I use this line not just to offer great products to the public, but to also show others who have battled addiction that we don't have to look like what we have been through!!! These products have shaped my skin and this company has added joy to my life! Now the only thing I'm addicted to is looking great and helping others do the same!!!! There is so much positivity in this company and I am so glad they have shown me I do bring something unique and different to the table! I never thought I would be doing something like this that has boosted my self esteem and confidence. Thank you Limelife By Alcone for saving my face and for shaping me into a Leader for others!"
N.C.
Chester, SC, U.S.A
STARS OF THE SHOW
Millet Seed Extract - combats stress-induced aging markers and restores the cells to their normal state.
Songyi Mushroom - relaxes facial muscles that cause fine lines and wrinkles.
Mediterranean Coastal Pine - is a high level natural defense.
Pullulan - a rare sea algae that is clinically proven to tighten the skin.
Water/aqua/eau, Prunus armeniaca (apricot) kernel oil, caprylic/capric triglyceride, Chondrus crispus (carrageenan), leuconostoc/Radish root ferment filtrate, Prunus amygdalus (sweet almond) seed extract, Nannochloropsis oculata extract, pullulan, glycerin, cetearyl wheat straw glycosides, cetearyl alcohol, squalane, cocoglucoside, coconut alcohol, dipalmitoyl hydroxyproline, sodium hyaluronate, Tricholoma matsutake (songyi mushroom) extract, Butyrospermum parkii (shea) nut butter, diglycerin, Pinus pinaster bark/bud extract, Rosmarinus officinalis (rosemary) leaf extract, Helianthus annuus (sunflower) seed oil, Helichrysum italicum (helichrysum) flower oil, Citrus aurantium (neroli) flower oil, Boswellia carterii (frankincense) resin extract, Pelargonium graveolens (geranium) leaf oil, Panicum miliaceum (millet) seed extract, Anthemis nobilis (roman chamomile) flower oil, Citrus aurantium (petitgrain bigarade) leaf/bud oil, bisabolol, sodium phytate, lactic acid, sodium anisate, glyceryl caprylate, sclerotium gum, sodium benzoate, alcohol, citric acid.
Ingredients in bold are Certified Organic
0.679% of the total ingredients are from Organic Farming
pH = 4.4-4.9
Sotoks is best used on skin that is not overly sensitive as it has very active ingredients. The effects of Sotoks on reducing dark spots are visible over time, but can be accelerated if combined with One Drop Wonder. For this, simply apply One Drop Wonder and then follow immediately with Sotoks.
Gently massage Sotoks into skin after cleansing, paying special attention to areas vulnerable to sun exposure and dehydration. Follow with Skin Therapist for dry, mature, or sun-damaged skin. Apply throughout the day to refresh skin, if desired.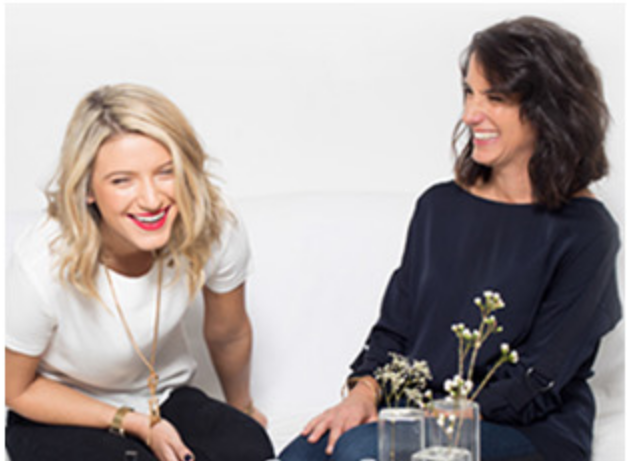 Incredible makeup and skin care for everyone…
At LimeLife, we empower people to achieve their goals and dreams and to inspire others to do the same. Our family-owned company was founded in 1952 to provide professional makeup to the stage and film industry. Now we are expanding our reach to help women and men everywhere look their best every day with our all natural skincare line and personalized makeup palettes.
Be Amazing Every Day with LimeLife! Michele Gay & Madison Mallardi
Co-Founders | Aunt & Niece