Skin Polish
Lemon & Jojoba Beads
For All Skin Types
PRODUCT #LLSCSP
4 OZ.
This lemony fresh, nutrient-rich mask and scrub hydrates, balances, and reduces inflammation. Natural Jojoba Beads roll away impurities, as well as dead and dehydrated skin, so oils from Olives, Lemon, and Cypress can restore and protect your skin. Use regularly to balance your skin and unearth a youthful glow.
"The first time my teenage daughter tried Skin Polish, we were amazed at her results. She followed the instructions, and after she rinsed and dried her face it looked like she had applied concealer and foundation. Her skin tone was even and matte and flawlessly glowing! She said "Mom, look how beautiful I am!" Yes, baby girl. Yes, you are!"
Katie B
Alexander, AK, U.S.A
"I had originally become a Beauty Guide for the makeup. Back then I didn't take care of my skin at all. I had acne scars from over a decade past and at that point, I just thought the would be stuck with me forever. I ended up getting skincare in my kit and I fell in love with it. My skin started clearing up within the first couple of weeks. I can finally leave my house without a full face of makeup and feel comfortable. Dream clean, Skin Polish and One Drop Wonder absolutely changed my life and brought a confidence that makes my former self unrecognizable. "
Desiree S
Chicago,IL, U.S.A
"I've always been a makeup girl but I never really put a lot of time into my skincare at night and I wish I did! When I joined limelight, I fell in love with all the skincare products! Now I get so excited applying these on my skin every night! It's very important to take care of your skin and I am so thankful I have these products in my life! I have very dry skin so I love applying the skin polish face mask and skin therapist moisturizer! Ever since I've used these I haven't experienced any dryness on my skin! I love reading what the products help with on the label because the products literally do what they say they are going to do! It's hard finding products like that! Thank you Limelight!"
Allie P.
Saraland, AL, U.S.A
STARS OF THE SHOW
Apricot Oil - this oil is rich in vitamins and minerals and has benefits for all skin types.
Cold-Pressed Lemon Peel Oil - this oil helps stimulate new cell growth and is proven to regenerate skin cells.
Jojoba Beads - used to naturally exfoliate dry, flaky, and devitalized cells.
Squalane - derived from olives (this compound is found in skin) it wraps around the skin helping to prevent dehydration.
Water/aqua/eau, Prunus armeniaca (apricot) kernel oil, cetearyl alcohol, cetearyl glucoside, Aloe barbadensis (aloe vera) leaf juice, Simmondsia chinensis (jojoba) wax beads, glycerin, yeast extract, arachidyl alcohol, behenyl alcohol, arachidyl glucoside, galactoarabinan, phospholipids, tocopheryl acetate, retinyl palmitate, ascorbyl palmitate, Butyrospermum parkii (shea) nut butter, Lavandula angustifolia (lavender) flower water, squalane, Citrus limon (lemon) peel oil, Cupressus sempervirens (cypress) leaf oil, Litsea cubeba fruit oil, Calendula officinalis (calendula) flower extract, Tilia cordata (linden) flower/leaf extract, Rosmarinus officinalis (rosemary) leaf extract, Helianthus annuus (sunflower) seed oil, hydrogenated lecithin, xanthan gum, dehydroacetic acid, benzyl alcohol.
Ingredients in bold are Certified Organic
2.176% of the total ingredients are from Organic Farming
pH = 5.1-5.8
Skin Polish can be used on all skin types on a regular basis or to help repair skin that has been exposed to too much sun or cold air. For anyone who has normal, dry, or aging skin, this mask produces amazing and immediate results.
Apply generously to freshly cleansed and damp skin. Massage for 30 seconds and leave on for 10-15 minutes. Remove with several splashes of warm water followed by a cool water splash. Use as often as desired.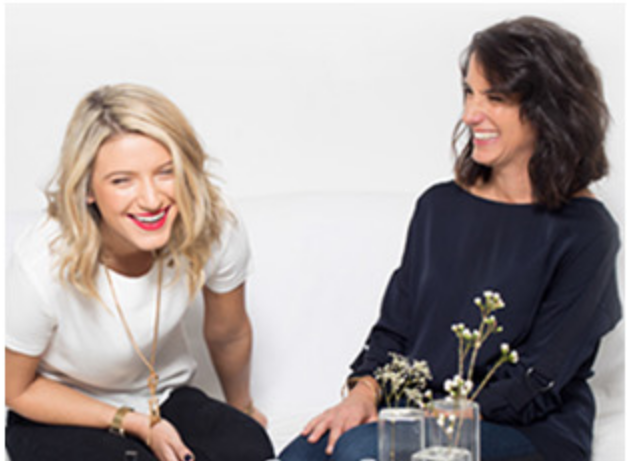 Incredible makeup and skin care for everyone…
At LimeLife, we empower people to achieve their goals and dreams and to inspire others to do the same. Our family-owned company was founded in 1952 to provide professional makeup to the stage and film industry. Now we are expanding our reach to help women and men everywhere look their best every day with our all natural skincare line and personalized makeup palettes.
Be Amazing Every Day with LimeLife! Michele Gay & Madison Mallardi
Co-Founders | Aunt & Niece